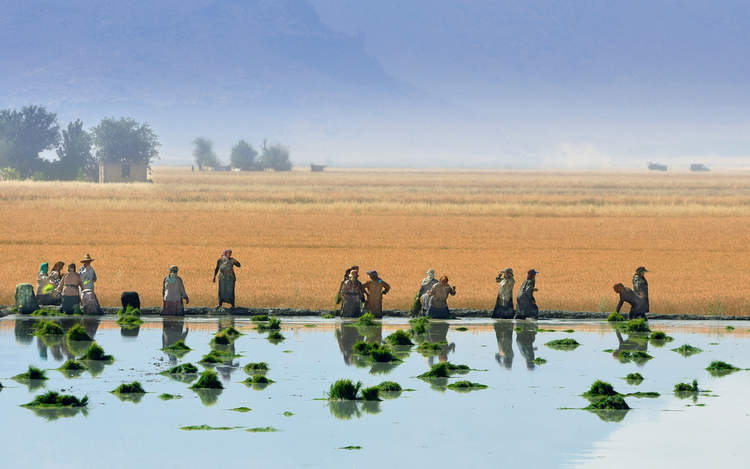 Villages are free of any modern luxurious essentials, but a platform to see the reality of each country. Here you are out of the metropolitans, far from glossy streets and locations, but an educational sophisticated trip occurs by meeting people, becoming familiar with rituals, ceremonies, money earning, family relationships, occupation and lifestyle. Find these in each rural section of Iran and compare the varieties.
Arrival in Tehran, the capital
Arrival in Tehran, the capital of Iran. Welcome by our agent and transfer to the hotel.
Optional extras if the time allows.
Accommodation: Tehran
Tehran to Abyaneh by road (318 km)
After enough rest and fueling up with first tour breakfast, it is on to drive to first village in Isfahan province, Abyaneh. Once it was remote and unknown, now its fame is worldwide. Beautiful location with fresh air and lively people with typical dressings will be your host.
Abyaneh to Naein by road (91 km)
Head to two nearby villages: Qamsar and Neyasar. In Qamsar and around April and May, you can experience the rose water Festival. Visit Neyasar Waterfall. Continue to the city of Nain through Natanz and Ardestan. Visit some mausoleums and mosques in Ardestan and continue to the city of Naein to rest.
Naein to Zeinoddin Caravanserai by road (around 205 km)
Visit Friday Mosque in Nain(Naein) and continue toward the old city of Meybod to visit Narin Castle and icehouse and caravanserai, visit nice village of Kharanaq and continue toward Zeinoddin Caravanserai in south of Yazd. Zeinoddin is located in the middle of desert and was announced as 101 superior hotels in 2009.
Accommodation: Zeinoddin Caravanserai
Zeinoddin to Meymand Rock Village by road (220 km)
Drive toward Kerman province, drive toward Meymand unique Rock Village around Shahr-e Babak (217 km/ 2:30 h). Visit the village residents and the village and continue to Rivas Rural house 30 km far from Meymand Village.
Accommodation: Rural house
Maymand to Bavanat Village by road (221 km)
Drive toward the nice village of Bavanat in Fars Province. You will experience the nomads, gardens and rural houses with local foods in Bavanat rural accommodation.
Bavanat to Tudeshk by road ) around 270 km)
Long drive day toward desert area of Varzaneh in Isfahan Province. Excursion in Varzaneh Desert and rest in a local rural house in Tudeshk.
Tudeshk to Golpayegan by road (297 km)
Visit Tudeshk village and its surroundings and then continue toward Golpaygan; en route visit Khansar where is the home to beautiful gardens and architecture; and Vist Village to have the chance to see an untouched village and buy Morvar baskets.
Accommodation: Golpayegan
Golpayegan to Tehran by road (372 km)
Continue toward Tehran, en route visit Mahallat (85 km) which is called "Netherlands of Iran" because of clean weather and also vast fields and flower growth. Continue to the beginning point. Rest in Tehran. Drop at international flight based on your flight schedule.
Departure day
Optional extras if time allows.
Package Introduction
Start: Tehran
Finish: Tehran
Duration: 10 days
Style: private
Physical rating: *