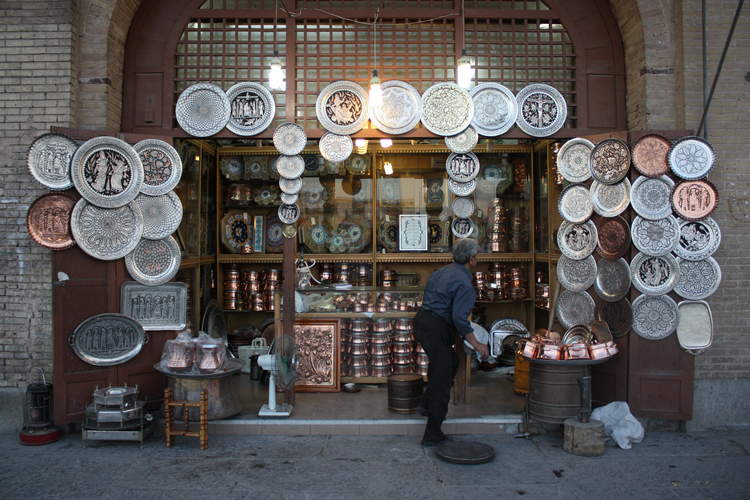 Variety is always welcomed even in a tour to another country that seems completely new to us; also becoming familiar with different aspects of a country is enjoyable. Iran is known as a historical and cultural country; however, the other traveling aspects should not be denied. It is our duty to create the real image of Iran and highlight what can make the travelers enjoy and satisfy. The potentials are a lot; one of them is this type of tour full of natural and cultural distinctions.
NOTE : This package is revisable on your request.
NOTE : By experience, most of Iran travelers will land around midnight to Tehran.
NOTE : This package can be divided to different parts, matched to your travel lengths.
Arrival in Tehran, the capital
Arrival in Tehran. Welcome by our agent and transfer to the hotel.
Optional extras if time allows.
Accommodation: Tehran
Tehran City tour
Today enjoy visiting the metropolitan Capital of Iran. You will see three to four highlighted museums in Tehran such as the National Museum of Iran which is the combination of two museums, the old Muze-ye Irân-e Bâstân (Archaeological Museum of Iran), and the modernistic white travertine National Arts Museum ("Mūze-i Honar-i Millī"). Golestan Palace which means the Palace of flowers in Farsi. Carpet Museum to see one of the most distinguished manifestation of Iranian culture and art. Visit to Jewelry Museum, one of the most fascinating museums in the world. Visit to Tehran old big bazaar as the ending activity.
Tehran to Damghan by road (344 km)
Drive toward the city of Damghan in the morning. Outside Damghan, you will visit pre-historic Hissar Hill (Tepe Hissar) first discovered by Albert Houtum-Schindler in 1877. Come back to city, first invited to visit the Tarikhaneh Temple or Mosque, which is the second historical mosque in Iran. Jameh Mosque and Bazaar are more to see.
Damghan to Gorgan by road (200 km)
Early wake up and breakfast to pass the city of Shahrud in the beginning (70 km). Stop in Could Jungle, have some trekking and photography and experience the low-level cloud cover. Continue to Gorgan City (76 km).
Gorgan excursion
In Gorgan, you will visit Naharkhoran Complex, Alexander wall on the plains of Gorgan (Dasht-e Gorgān) including the ruins of Qaleh Kharabeh and Ashura Deh and Bandar e Torkmen (40 km).
Gorgan to Bojnord (307 km)
Drive to Bojnord city through UNESCO world heritage of Gonbad-e Kavoos brick Tower which is the tallest brick tower and famous as the best human work in the world, 115 km remained to Bojnord you stop in Golestan National Park on the way; it takes more than a full day to see the park, but even a short excursion is also memorable.
Bojnord to Mashhad by road (272 km)
Start the day by Bojnourd Springhouse and then drive toward Mashhad through Quchan to see Radkan brick Tower in Chenaran and also the tomb of great poet Ferdowsi in Tous before reaching Mashhad.
Mashhad City Tour
Mashhad excursion as the main religious city of Iran to the Holy Shrine of Imam Reza, Museum of the Shrine, Nader Shah Mausoleum and then dinner at Shandiz District.
Mashhad to Nishapur by road (128 km)
Drive to Nishapur or Nishabur, en route, visit famous wooden Mosque in wooden village and then visit the tombs of great Persian poets Omar Khayyam and Attar. In Neishabour, they are a lot to see in this not very big city. First, you visit the Mausoleum of Attar of Nishapur, the tomb of Kamal-ol-Molk, Shah Abbasi Caravanserai.
Accommodation: Nishabur (Neyshabour)
Nishabur to Shahrud by road (360 km)
Continue driving toward Shahrud in Semnan Province again, pass through Sabzevar city. En route visit Abu al-Hassan al-Kharaqani complex, and Bastam Complex in Bastam City (5 km far from Shahrud).
Shahrud (Shahroud) to Farahzad Village (460 km)
Excursion to Archeological Museum, Traditional bazaar and continue driving toward Dasht-e Kavir, visit Jandagh Qanat built in recent years. Continue to Farahzad Village.
Accommodation: Farahzad Village
Desert tour
Marvelous excursion in Mesr Desert, camel riding and Safari and then see sunset in Salt Lake.
Accommodation: Farahzad Village
Garmeh excursion, drive to Tabas (246 km)
Around the area, you have the chance of visiting beautiful Garmeh village, an oasis in the center of desert of Iran; visit to a local house and a young lady who makes the hand- made cloths with different usages and got national prizes. Head to the desert city of Tabas.
Tabas excursion
Very exciting tour to Morteza Ali Canyon, do not forget extra clothes and sport sandals to walk through the hot spring. It is 27 km far from Tabas in Khoro village. You will become fresh in the heart of desert.
Tabad to Birjand (274 km)
A road trip to Birjand directly. Exciting excursion around Birjand to see its sand dunes recognized by NASA as the hottest Sand dunes of the world. Visit Birjand bazaar as well as Band-e Dareh Dam, 3 km in the south of Birjand.
Birjand district excursion
Drive to Makhunik historical village (135 km), a mysterious village of little people commonly known as the country's 'Lilliput'; also Famous Frog ancient castle to see the city from up especially at night and have a cup of Iranian Tea.
Birjand Excursion
Birjand full day city tour to see nice monuments and historical gardens in this old city such as Akbarieh House and Garden (World heritage site), Rahimabad garden and mansion, Kolah Farangi citadel, and Shokatieh historical school.
Birjand to Kerman by road (566 km)
You will leave Birjand to Kerman this day with a quiet long driving, becoming ready for more wonders until the ending days; and after visiting Jabalieh Dome and have dinner, you will rest at hotel. Jablieh Dome is also called Gabri Dome.
Kerman to Mahan (39 km)
Excursion to Ganjali khan Complex: Ganjali Khan Complex is composed of a square, a caravanserai, a bazaar, a mosque, a bathhouse, a school, a mint, an Ab anbar (water reservoir). Its building style is Isfahani Style. You will be busy for the full day and may have time to visit Jabalieh Dome in the evening. Drive to Mahan (39 KM) to see the Shazdeh Persian Garden, Shah Nematolah Vali.
Mahan to Jiroft by road (153 km)
On this road trip, we pass Rayen to visit Rayen Citadel, the smaller sample of Bam Citadel. Continue to Jiroft where is one of the oldest parts of Iran in which archaeologists found evidence of civilization; see famous historical hills and archaeology museum of this city; on the way, beautiful mountains of Jebal-e-Barez.
Jiroft to Qeshm Island by road (331 km)
Today, you will continue to the southern part of Iran; to beautiful unique Island of Qeshm. On the way, you will pass nice and famous palm gardens of Jiroft. Qeshm Island is considered as the Land of seven wonders of Persian Gulf. You will have full day excursion to Naaz Islands, Khorbas Cave, Valley of Stars, Sib Deraz Village, Qeshm Crocodile Park and Hengam Island.
Accommodation: Qeshm Island
Qeshm Excursion and flight to Tehran
This is the last day of tour, but still you will experience new things, today is diving tour. You will visit Bandar e Laft, Mangrove Hara Jungle, Tabl Village to have very delicious Seafood in Mr. Amini's house and beautiful preserved area of Chahkooh Canyon. Take the flight back to Tehran. Drop at IKA for outbound flight based on your flight schedule.
Optional: Take the outbound flight from Qeshm to your next destination.
Package Introduction
Start: Tehran
Finish: Tehran or Qeshm Island
Duration: 23 days
Style: private
Physical rating: *