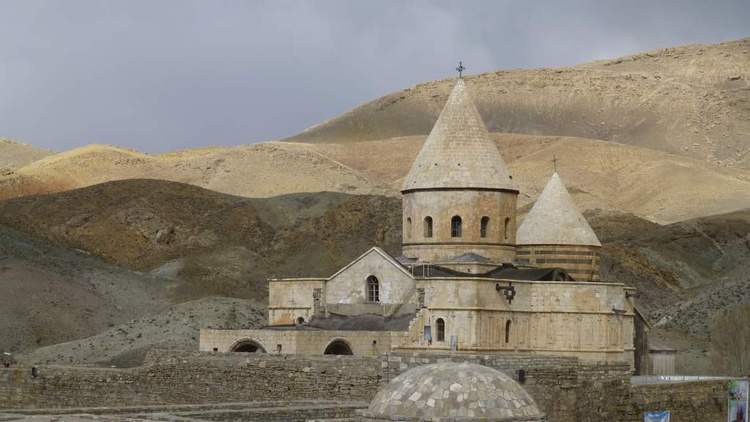 Nearby countries are lovely to be visited; easy to connect Iran by land or Sea borders (passenger or cargo). You can enter through Europe or Armenia and then have a trip to UAE or even India. This package is a good connection of these destinations. No difference whether you enter by your own vehicle, motorcycle, bicycle or on your own foot; this package can be done for all.
NOTE : The bicycle riders should know that some parts of the distances between two destinations should be driven by car due to long distances; also there is no especial bicycle riding path.
Border to Jolfa
Arrival through Bazargan (Turkey) or Norduz (Armenia) Border. Do the customs and enter the land of Iran. Welcome by our agent and drive toward the city of Jolfa, the first city to visit.
Jolfa to Tabriz by road (270 km)
You drive 147 km to west to catch UNESCO world heritage remained from Christians in Sarcheshmeh called Black Church or Qare Kelisa, you continue to the city of Tabriz (270 km) after finishing the visit to church. Dinner at El Goli Complex in Tabriz.
Tabriz
Tabriz, capital of Azerbaijan province of Iran, is inhabited by an ethnic community called Azaris. In Tabriz, you visit Blue Mosque, Tabriz Museum and the extensive bazaar built in the 15C as UNESCO world heritage.
Tabriz to Takab by road (296 km)
Continue to the Rock village of Kandovan 40 km south of Tabriz and then city of Takab (296 km/ 4:35 h). Takht-e Soleyman was recognized as the UNESCO world heritage site in July 2003. The citadel includes the remains of Zoroastrian Fire Temple built during the Sassanid period. Close to that is the prison of Soleyman (Zendan-e Soleyman) which relates to the folk legend of King Solomon.
Takab to Hamadan by road (245 km)
After the last breakfast in West Azerbaijan Province, you head toward Zagros Mountains, Hamadan City, the capital of Hamadan Province. The main symbols of this city are the Ganjnameh inscription, the Avicenna monument and the Baba Tahir monument, one of the most famous 11th century Persian poets. Ganjnameh is located 5 km southwest of Hamadan. The inscription is cared in granite and is composed of two parts.
Hamadan to Kashan by road (400 km)
Early hotel checkout. Spend your morning exploring the awe-inspiring world's largest water cave located 100 km in the north of Hamadan City. The next destination is small but beautiful city of Kashan.
Kashan to Isfahan by road (216 km)
Begin your beautiful day full of visits to uniquely designed ancient Kashan houses such as Tabatabaei and Borujerdi houses as well as Sultan Amir Ahmad Bathhouse and Fin Garden. During your visit to the historical houses of Kashan, follow the story of deadly earthquake and their reconstruction during 18th and 19th century, international trading and house features. Continue to the capital of Isfahan province called "Half of the World".
As the evening approaches, you will enjoy journey through Isfahan historical old bridges of Khaju and Si-o-se Pol.
Isfahan
You have many things to see and do in these two days, entering Naqsh-e Jahan UNESCO world heritage Sq. that is also called Meidan Emam and spend hours there visiting all around the second biggest Sq. in the world including Imam and Sheikh Lotfollah Mosques, Ali Qapu Palace and great big bazaar. Have the chance to visit Chehel Sotoun Palace.
Isfahan to Persepolis by road (434 km)
Isfahan excursion ends with Isfahan Jame Mosque and walking in the Armenian part of the city called Jolfa (New Julfa) and visit to Vank Cathedral. Say goodbye to the Isfahan Province and head toward one of the most fascinating attractions visited during this tour, UNESCO world heritage of Pasargadae, founded by Cyruss ll the Great. Drive toward the accommodation place close next to Persepolis for another exciting day.
Accommodation hotel near Persepolis
Persepolis to Shiraz by road (60 km)
It is too difficult to describe Persepolis in just some words or sentences; it must be seen and felt. After finishing Persepolis and Necropolis (Naqsh-e Rustam), you will drive toward the city of Shiraz which is famous for very hospitable people, poem and literature.
Shiraz
You are at the ending days, but still lots of things to do and see and even buy as souvenirs. Start with Zandiyeh Complex including the Arg-e Karim Khan Complex, Vakil Bath, Mosque and bazaar as well as Saraye Moshir, Zinatol Molk House, Narenjestan (Qavam) Garden of Shiraz, Zinat Ol Molk House, the tombs of great Persian Poets of Hafez and Sa'adi , Hafeziyeh and Saadiyah.
Shiraz to Bandar Abbas by road (577 km)
You will have colorful Farwell in Shiraz in Nasir-ol-Molk (Pink) Mosque with taking many memorable and particular photos. Head to the last spot, Bandar Abbas, the city with maritime boundary (577km).Walk along the Persian Gulf and become ready for next day Departure.
Accommodation: Bandar Abbas
Departure
Do the official custom process and then leave the country by ferry
Optional: Fly from Shiraz to Tehran to leave the country
You will find ferry schedule here
Package Introduction
Start: Turkey / Armenia - Iran Border
Finish: Bandar abbas
Duration: 13 days
Style: private
Physical rating: *