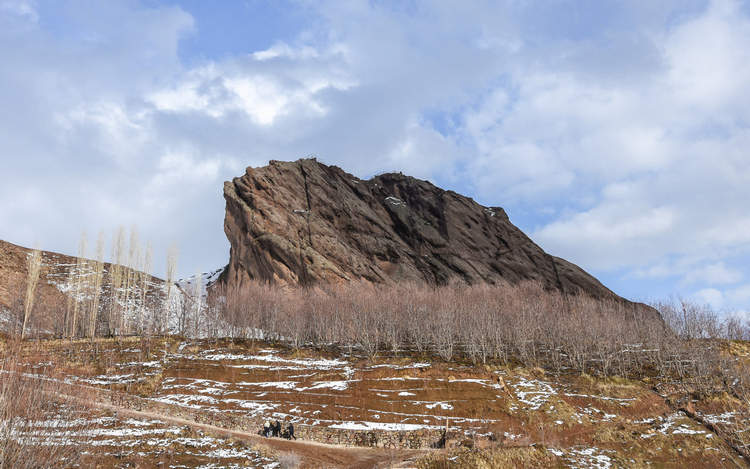 You cannot believe that these various and unique places can be seen in just four nearby provinces and in just 15 days. Sometimes, hundreds of kilometers must be passed to reach a couple of them. From big bazaars to caves, from villages to jungles and from bridges to castles are all gathered in this 15 day tour. Do not miss to taste it..
NOTE : This package is revisable on your request.
NOTE : It saves money and time if you start the tour in Tabriz.
NOTE : The real driving hours are more than the written kilometers.
Arrival to Tehran or Tabriz
Tabriz and Tehran are around 630 km far from each other, so by a connecting flight, you can start the tour from Tabriz.
Optional extras if time allows.
Accommodation: Tehran or Tabriz
Tabriz to Kandovan by road (56 km)
You will have very short excursion in Tabriz UNESCO world heritage bazaar. It is a good opportunity to buy any carpet or handicraft in this unique bazaar. Continue to one of the most beautiful rock villages of Iran called Kandovan in East Azerbaijan province. You will go up the houses and shops, meet the local people and enjoy the local food.
Accommodation: Kandovan Village
Kandovan to Kaleybar by road (225 km)
You say goodbye to the friendly people of the village and continue to another wonder. En route, between Ahar and Khajeh, you will face one of the natural phenomenal creation called Aladagh Lar Mountains or colorful Mountains. It will be one of the highlights of your tour. Continue to Kaleybar and become ready for one of the most challenging days of tour.
Babak Fort
Today you will test your body strengths by going up Babak Castle. Start from nomad camps to Babak Castle which is also called immortal castle as the symbol of Iranians resistance against suppression. It is built in the height of 2380 meters and has a mountainous and amazing path to castle. Rest and dinner at hotel.
Kaleybar to Jolfa by road (305 km)
Very early embark toward Jolfa, but you will stop in Arasbaran Jungle, a part of Paradise. Feel fresh air, jungles, animals, people, butterflies, and river and keep obtained energy for the rest of day. Stop in Jolfa, go to its bazaar as an optional program.
Jolfa to Maku by road (189 km)
Visit to the UNESCO world heritage of Armenian Monastic Ensembles of Iran, St. Thaddeus (Gara Kelisa) before reaching to the city of Maku. One of the most interesting views in this day is Mount Ararat in the extreme east of Turkey while you are standing in Iran. Visit the city of Maku by Chapel of Dzordzor (Dzor Dzor Chapel) on Zangmar River.
Maku to Khoy by road (131 km)
Early wake up to continue some excursions in Maku to Sardar Maku Palace and its bazaar. Drive toward the city of Khoy. Visit to the traditional Khoy Bazaar, Tomb of Shams-e Tabrizi and if the time allows Khatun bridge 3 km out of Tabriz.
Khoy to Urmia by road (137 km)
Continue to the capital of West Azerbaijan province, Urmia. First stop is 17 km east of city; in Urmia Lake that in spite of lack of water, it is still beautiful to visit. It is considered one of the largest Salt Lakes in the World. You will see a big stone in the lake which was used a fort by people 140 years ago. Drive back to city to visit Se gonbad historical place.
Urmia to Mahabad by road (120 km)
You pass Mahabad toward Bukan (43 km) to explore inspiring Sahvalan or Saholan Water Cave which is the second largest one after Ali Sadr Water Cave, in Hamadan, which has first rank in the world. free at your leisure for the remainder of the day.
Mahabad to Zanjan by road (345 km)
You pass through Maragheh City (113 km) in this road trip. Stop in Maraghe to explore great Maragheh Observatory. Continue driving to reach Mianeh city (182.5 km), have lunch and visit Stone Mosque of Tark and Kiz Bridge of Mianeh. Rest in Zanjan.
Zanjan outdoor tours
Today's excursion is out of the city, so first you will visit UNESCO world heritage of Soltanieyh, 43 km far from the city of Zanjan. On this way, you drive more to reach Katale Khor Cave (140 km from Zanjan). It is claimed that the cave is about 40 million years old and 30 km long but visitors will only see ten kilometers of it. Iran visitors will see beautiful and picturesque stalactites and stalagmites inside the cave. Drive back to have dinner in Zanjan.
Zanjan to Qazvin by road (178 km)
Morning visit to Saltman Museum of Zanjan before driving out of Zanjan toward Qazvin. Qazvin was a medieval capital of the Safavid dynasty for over forty years and nowadays is known as the calligraphy capital of Iran. There are lots of activities you have the chance to do such as visiting Bist Sotoun, Ali Qapu Gate, Caravanserai of Sa'd al-Soltaneh,
Qazvin Excursion
One-day trip to the Canyon and the castle of the Assassins, Alamut (108 km, around 2:30 h). You will experience hiking through the valley and have a lunch in homely environment.
Qazvin to Tehran by road (154 km)
Today you will visit anything that is missed in Qazvin and continue to the capital of Iran. If you like, you can visit a couple of museums or Tehran old big bazaar. Dinner at Darband with nice view and restaurants. You will be transferred to the IKA airport based on your flight schedule.
Departure day
Transfer to the airport for flying out.
Package Introduction
Start: Tehran or Tabriz
Finish: Tehran
Duration: 15 days
Style: private
Physical rating: *