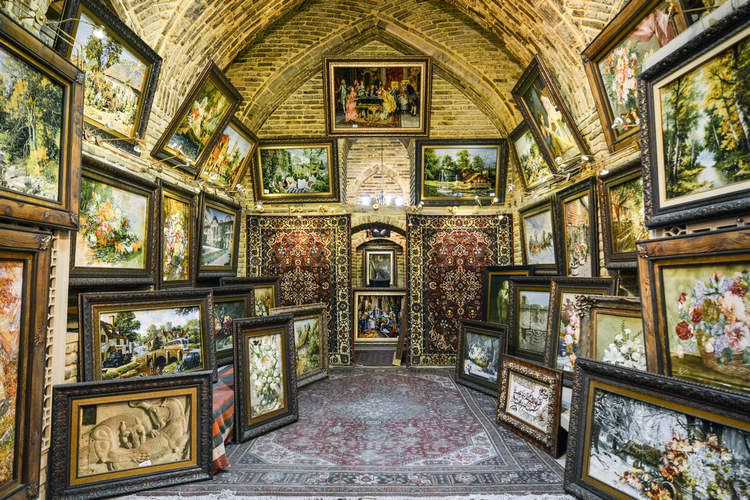 A vast country of such Iran has a lot to see; no matter you are visiting west or east, south or north. It is full of wonders, variety, and surprise. Not only you will find the valuable attractions inside the cities, but also a lot more highlighted ones en route to another destination. The long driving is not boring while visiting the high mountains, vast deserts, green plains and deep valleys. This package covers most of highlighted main central, classical and western cities of Iran in 25 days, but if you want to finish your tour in shorter or longer period, it can be possible to customize it.
NOTE : This package is revisable on your request.
NOTE : By experience, most of Iran travelers will land around midnight to Tehran.
NOTE : This package can be divided to different parts, matched to your travel lengths.
Arrival in Iran, Tehran
Arrival in Tehran. Welcome by our agent and transfer to the hotel.
Optional extras if the time allows.
After just few hours rest, you will have late breakfast and shower to start half – day tour of Tehran. It depends on the date of arrival, but we start by driving through walking on Iranian-designed Tabiat Bridge, which connects Ab-o Atash and Taleghani Parks to each other. Have lunch in wooden road of the park and continue by visiting Milad Tower, the 6th tallest telecommunication Tower in the World.
Tehran City Tour
Tehran is the capital of Iran. The biggest and most crowded city of Iran with about 15 million population. The Iran tour starts with the capital, metropolitan, and the most important Iran museum, called the Archeological National Museum, after that visit to the precious museum of Iran Jewelry beside the central bank of Iran, Golestan Palace and Tehran old big bazaar.
Tehran to Qazvin by road (153 km)
Drive toward the city of Qazvin in the early morning. A full day excursion to Sa'd-al Saltaneh Caravanserai in the center of the city, Chehel Sotoun, Covered Bazaar, Nabi Mosque, Aminiha Hosseiniyeh and Qazvin Museum.
Qazvin City to Alamut Castle by road (108 km)
Early morning embark to Alamut Castle. Alamut Castle or Hassan Sabbah Castle is located in the heart of the mountain. Take suitable climbing shoes or boots and clothes.
Qazvin to Zanjan by Road (179 km)
One of the most highlighted UNESCO world heritages located 43 km on east of Zanjan. Dome of Soltaniyeh has the oldest double –shell in Iran and one of the largest brick domes in the World. Marvelously, around 200 ton domes stands 49 meters from its base. After reaching to the city of Zanjan, you will visit the Salt Men Museum of Zanjan
Zanjan to Takab by road (184 km)
We head directly to the UNESCO world heritage of Takht-e Soleymān also known as Azar Goshnasp Fire Temple (142 km). Drive toward the small but beautiful town of Takab by great UNESCO world heritage of Takhte Solaiman and Solomon's prison. It is full of history, unique and especial to visit. Ride 43 km more to stay in the small city of Takab for overnight.
Takab to Hamadan by road (245 km)
There is nothing more to see in Takab, so in the early morning, you head, to Hamadan Province. Before reaching Hamadan, you stop to visit one of the most beautiful water caves called Ali Sadr located possible for boating. Continue to Lalejin City 25 km far from Hamadan, which is one of the most important centers of pottery and ceramic in Iran and Middle East.
Hamadan City Tour
Hamadan is considered as one of the oldest cities of Iran full of various attractions. There are lots of things to do and see inside Hamadan: UNESCO World heritage of Hegmataneh or Ecbatana, Ganjnameh ancient inscription 5 km out of Hamadan, Baba Tahir Oryan Mausoleum, tomb of Esther Mordekhay which is the most important pilgrimage site for Jews in Iran. Most of Hamadan people are Turks and speak Turkish.
Hamadan to Kermanshah by Road (188 km)
Move from a Turkish Province to a Kurdish one. Kermanshah is the largest Kurdish –speaking City of Iran. Just 30 km in the east of Kermanshah is one of the biggest stone written inscriptions called UNESCO world heritage of Bisotun. It is the first known inscription in the world. Have local Rib Kebab which is one of the most delicious and famous Iranian and Kermanshahi foods, suggested in Taq-e Bostan. Taq-e Bostan is a site with the remained series of large rock reliefs made in Sassanid era.
Accommodation: Kermanshah
Kermanshah to Khorramabad by road (192 km)
Drive toward Khoramabad as the city of Lur people. Among the attractions are 5 Paleolithic cave-dwelling sites. In the city center, a tall citadel called Falak – ol - Aflak (The Heaven of Heavens), a relic of the Sassanid era which is a museum now.
Accommodation: Khorramabad
Khorramabad to Shushtar by road (246 km)
Trip to one of the hottest cities of Iran which has suffered a lot from 8-year war with Iraq. There are still some effects of war not only in Ahvaz but also in most cities of the province.
Through this road trip, you will pass Andimeshk, Dezful, Susa, Choqha Zanbil Ziggurat; ancient Elamite complex ; which is among the list of UNESCO world Heritages, being astonished with another UNESCO world heritages of Iran in Shushtar, named Shushtar Historical Hydraulic System.
Shushtar to Shiraz by road (580 km)
This is very intense day, there is long driving of around 9 hours. When you reach to Ahvaz, you will have very fast visit of Karun River pass inside the city of Ahvaz. Then head directly to Shiraz. There are some attractions to visit en route in Kazerun district, but its possibility depends on the travel season. If the time allows, you will have the chance to visit Bishapur ancient city remained from Sassanid Era.
Direct flight from Ahvaz to Shiraz is available on some days of week.
Accommodation: Shiraz
Shiraz City tour
In the city of poets and poetry, you will have the walking tour to beautiful Nasir-ol Molk (Pink) Mosque, the Arg e Karim Khan built in Zand Dynasty. Shopping and visit Vakil old bazaar and Saraye Moshir with its courtyards, Caravanserais, bathhouses and old shops. Narenjestan Palace, Shah E Cheraq Shrine to see the Muslims praying. Evening visit to the tombs of Hafez and Saadi, the Persian poets, the memorial structure and the nice gardens.
Persepolis and Necropolis by road (61 km)
Today you will tour one of the most magnificent attractions in Iran tours. Persepolis UNESCO world heritage which has been the palace of the Iranian kings in Achemenid Dynasty and also Naqshe Rostam.
Optional

: Excursion to UNESCO world heritage of Pasargadae can be possible based on travel season (80 km far from Persepolis)
Accommodation: Shiraz
Shiraz to Kerman by road (566 km)
A long driving day to the city of Kerman, en route stop in Delnamak Eco lodge in Mahalu Village (40 km) to have a cup of coffee and visit to Maharloo Lake , another stop in UNESCO world heritage of Sassanid Castle in Sarvestan (75 km). Continue to Kerman.
Kerman and Mahan Excursion
After good and enough sleep, you start with the city excursion by Ganjali Khan Complex located in the old part of the city dates back to Safavid-era. Ganjali Khan Complex is composed of a square, a caravanserai, a bazaar, a mosque, a bathhouse, a school, a mint, an Ab anbar (water reservoir). Its building style is Isfahani Style. Continue to the city of Mahan (40 km). Excursion to Shazdeh beautiful Garden in desert district as well as the tomb of great Sufi leader Shah Ne'emat Ollah-e-Vali. Drive back to Kerman.
Kerman to Yazd by road (360 km)
It is really worth changing our route to west and visit Rock Village of Meymand in Shahr-e Babak (235 km) and then continue to Yazd (287 km). Visit to Meymand Rock Village CAN be omitted if you prefer. Yazd is considered as the oldest city of Iran which still keeps its old design and environment. Yazd city tour is to Amir Chakhmaq Complex, Jameh Mosque.
Yazd City tour
Yazd excursion continues with the Tower of Silence or Dakhmeh, Water Museum, Fire Temple of Zoroastrians, Old town and badgirs and then Zourkhaneh for seeing Iranian traditional Pahlavani Sport. Do not miss the delicious original sweets of Yazd and Dowlatabad Garden with the tallest wind catcher in Iran.
Yazd to Isfahan by road (323 km)
Today's road tour is a very short distance comparing to some other distances in Iran, but breaks up to some stops and visits such as Zoroastrian Temple of Chak Chak, Old city of Meybod. In Meybod, there are lots to see; first, you will visit Narin Qa'leh, Shah Abbas Caravanserai, Meybod Dovecote or Pigeon Tower, Meybod Chapar Khaneh. Continue to city of Nain or Naein (118 km). Here you will discover Narenj Castle and Jameh Mosque of Nain. Rest in the beautiful city of Isfahan.
Isfahan City Tour
Isfahan is always one of the most interested cities of Iran for tourists. Isfahan retains the past glory and famous Islamic architecture. You will spend the entire day in Naqshe Jahan Sq. (UNESCO world heritage) that is the second largest city square in the world. The other historical monuments are Sheikh Lotfollah Mosque in the East of the square, built by the purpose of private mosque of Royal court. In the south side of the square visit to Imam Mosque, formerly called Shah Mosque. Opposite to Sheikh Lotfollah Mosque is a grand palace called Ali Qapu Palace. It is forty-eight meters high and there are seven floors, each accessible by a difficult spiral staircase. It is an opportunity to purchase unique artworks in Bazaar of Isfahan, which is one of the oldest and largest bazaars in the Middle East. Visit to Jameh Mosque, and walking in Armenian quarter of Isfahan, called Julfa and Vank Cathedral and walking tour to the old bridges of Isfahan: Khaju and Si-o-se-pol
Isfahan to Abyaneh by road (183 km)
The towns and villages around Isfahan are also nice to see and stay. On the way toward north, you will visit Neyasar Waterfall, Qamsar which is famous for its rosewater and also Natanz. You will stay in Abyaneh village which is still the host of many traditional people.
Accommodation: Abyaneh Village
Abyaneh to Kashan by road (80 km)
Continue driving to the city of Kashan. Begin your beautiful day full of visits to uniquely designed ancient Kashan houses such as Tabatabaei and Borujerdi houses as well as Sultan Amir Ahmad Bathhouse and Fin Garden. During your visit to the historical houses of Kashan, follow the story of deadly earthquake and their reconstruction during 18th and 19th century, international trading and house features.
Kashan to Tehran by road (243 km)
Early drive to Tehran to have enough time to visit the remained museums and highlights in Tehran such as Sa'dabad Complex built in Qajar and Pahlavi monarchs. Free time for packing up.
Drop at IKA Airport for outbound flight
Optional extras if the time allows
Package Introduction
Start: Tehran
Finish: Tehran
Duration: 25 days
Style: private
Physical rating: *