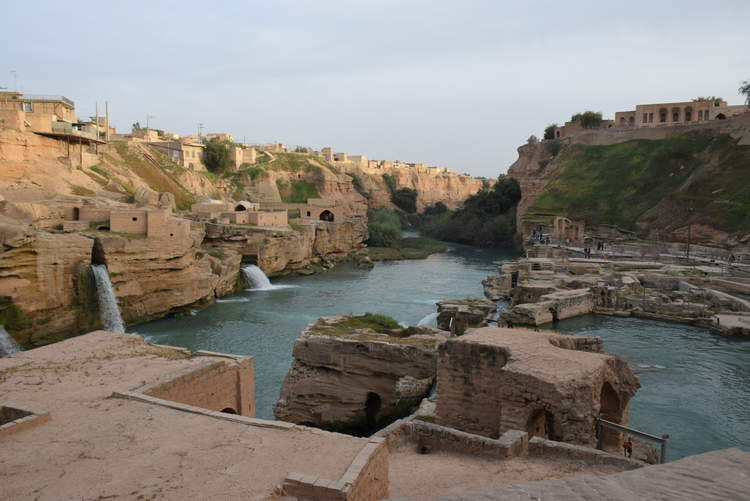 This is a gift for those who have been to Iran before, but were not suggested or thought of visiting Lorestan or Ilam Province. These places are unique but deprive of being visited by foreign travelers; Safe, beautiful, and unique to visit and be educated. The driving kilometers is not too much, but many more than your thoughts are seen. Also Khuzestan Province is welcomed you to visit the inner surface of the province.
NOTE : This package is revisable on your request.
NOTE : The real driving hours are more than the written kilometers.
Arrival in Tehran
Welcome to Iran by our agent and transfer to the hotel to rest.
Optional extras if time allows.
Accommodation: Tehran
Tehran to Hamadan by road (320 km)
You drive through Eslamshahr and Saveh, after lovely Iranian dish as lunch in Hamadan, you start visiting the historical attractions of this city like Tomb of Esther and Mordechai, Hegmataneh Hill and Gajnameh Inscriptions.
Ali Sadr Cave and Lalejin
One full day excursion to Ali Sadr World's largest water Cave as well as pottery and ceramic factories in Lalejin.
Hamadan to Khorramabad by road (250 km)
In this exciting day, you will stop first in the city of Maleyer (84 km) to visit Sefiyeh Park and then continue to Borujerd (144 km from Hamadan) to visit and hike in Goldasht Valley 3 km west of the city and Chogha Hill which is the volcanic hill and the resource of volcanic stones. It is also called Borujerd Roof. Continue to Khorramabad.
Accommodation: Khorramabad
Khorramabad Excursion
It is a very beautiful hiking day in Makhmal Kooh National park on Khorramabad to Alashtar Road. This park is also called Shabikhoon Gorge. Driving back to the city, have a historical visit to Falak-ol-aflak Castle.
Accommodation: Khorramabad
Khorrmabad to Ilam (252 km)
After a freshening day and fueling with good breakfast, you hit the road to first spot called Pol –e Dokhtar County and its pol-e dokhtar Bridges goes back to Sassanid dynasty. Pol-e dokhtar lagoon is the host of more than fifteen species of birds in which the rare birds are mute swan and stork (Haji Laklak). Continue a little bit more to reach Gavmishan Bridge 30 km before Darreh Shahr on Simreh River, dates back to Sassanid dynasty.
Strait of Razianeh excursion
Full day hiking and trekking to Razianeh Tangeh or Strait located 50 km on Ilam to Badareh. This is very especial attractions for the geologists. This natural phenomenon was first created as the result of an earthquake.
Ilam to Abdanan by road (311 km)
Early visit to Arqavan Canyon, 3 km north east of Ilam City and then Drive toward very touristic city of Ilam Province, Abdanan. Abdanan is considered as one of the most important and highlighted cities with various natural and beautiful relics. Excursion in this area starts with Posht Qala (Qale) Fortress, 5 km far from the town on high hill. After this, you will stay in Abdanan.
Accommodation: Abdanan or Darreh Shahr
Abdanan to Dezful by road (162 km)
Full day hiking and trekking excursion to Siah Gav Twin Lakes, which is one of the rarest natural phenomenon of Iran. Continue to Dezful for overnight stay.
Dezful excursion
During your stay in Dezful, there are plenty of marvelous attractions to visit. You will head to Dezful water Mills, Tomb of Yaghub Leys Safari, Tiznoo House, and old Bridge of Dezful.
Dezful to Shushtar by road (64 km)
You will finish any remained attractions in Dezful in the morning and continue to one of the most precious cities of Ancient near East, Susa. You will discover the importance and richness of the city by visiting the Tomb of Daniel, Palace of Darius in Susa, Susa Castle and if you like its Museum. Drive to Shushtar to rest (83 km), en route visit the UNESCO world heritage of Choqa Zanbil Ziggurat.
Shushtar excursion
This full day city tour starts with Band-e Mizan Bridge, Kolah Farangi Tower, Salasel Castle, and then continue to the Sushtar waterfalls and UNESCO world heritage of Shushtar historical hydraulic system. You will also visit Marashi and Mostofi Houses.
Sushtar to Ahvaz by road
60 km drive toward the city of Masjed Soleyman to visit Shahid Abbaspour Dam and then continue to the capital of Khuzestan Province. Rest and visit Karun River.
Ahvaz and flight to Tehran
You will use the maximum of your time to visit Shadegan marshes (95 km) and then take the evening flight to the city of Tehran for outbound flight.
Optional: you will be transferred to the IKA airport based on your return flight time.
Departure day
Say goodbye to Iran and fly out.
Package Introduction
Start: Tehran
Finish: Tehran
Duration: 15 days
Style: private
Physical rating: *