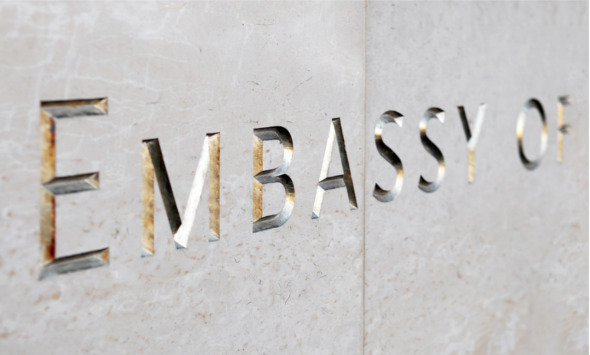 The visa section of all Iranian embassies throughout the world are ready to help you regarding any visa questions and all types of visa collections. Most of the embassies refuse to issue the tourist visa directly and refer you to the travel agencies.
You need to have Iran visit or Tourist visa (Type B) to Iran, which is one of the easiest visas to obtain in the world. Iran Tourist Visa is issued very fast, cheap, with less in- person visit, without needing money support, E – VISA, and with high issuance chance.
You need to collect the issued visa through your preferred Iran embassy (the embassy must be chosen before the visa application starts). Iran visa collection may take about 1–2 weeks; but sometimes a day or even some hours (dependent on the season and embassy procedure). At this duration, your passport may be kept by the embassy.
You are recommended to check the embassy website before your refer in-person; check the needed documents, fill out the embassy application form and make an appointment if needed.
A complete list of Iran embassies and consulates throughout the world are gathered in the following for your own easier usage.
Needed documents to collect the Iran visa :
| | |
| --- | --- |
| Visa issuance (reference) number / Grant Notice | Two pieces of (passport) photos |
| Original passport with 6 months' validity and two empty pages | Cash |
| Application form | Travel insurance |
| List of accommodation (if you have) | Flight tickets (if you have) |
Americas

Name of the Country

Name of City

Embassy/Consulate Wbsite

Argentina

Buenos Aires (Link)

Bolivia
La Paz (Link)
Brazil
Brasilia (Link)
Canada
Ottawa (

Inactive

)
Chile
Santiago (Link)
Colombia
Bogota (Link)
Cuba
Havana (Link)
Ecuacor
Quito (Link)
Mexico
Mexico City (Link)
Nicaragua
Managua (Link)
United States

Washington, D.C. (Interests Section via the Embassy of Pakistan) (Link)

Uruguay
Montevideo (Link)
Venezual
Caracas (Link)
Asia

Name of the Country

Name of the City

Embassy/ Consulate Website

Afghanistan

Armenia

Yerevan (Link)

Azerbaijan

Baku (Embassy) (Link)

Nakhchivan(Consulate-General) (Link)

Bangladesh

Dhaka (Link)

Brunei

Bandar Seri Begawan (Link)

China

Georgia

Tbilisi(Embassy) (Link)

Batumi(Consulate-General) (Link)

India

New Delhi(Embassy) (Link)

Hyderabad(Consulate-General) (Link)

Mumbai(Consulate-General) (Link)

Indonesia

Jakarta (Link)

Bahrain

Manama (Inactive)

Iraq

Japan

Tokyo (Link)

Jordan

Amman (Link)

Kazakhstan

Astana (Link)

Kuwait

Kuwait City (Link)

Kyrgyzstan

Bishkek (Link)

Lebanon

Beirut (Link)

Malaysia

Kuala Lampur (Link)

North Korea

Pyongyang

Oman

Muscat (Link)

Pakistan

Philippines

Manila (Link)

Qatar

Doha (Link)

Saudi Arabia

Riyadh (Inactive)

South Korea

Seoul (Link)

Sri Lanka

Colombo (Link)

Syria

Damascus (Link)

Tajikistan

Dushanbe (Link)

Thailand

Bangkok (Link)

Turkey

Turkmenistan

Ashgabat(Embassy) (Link)

Mary(Consulate-General) (Link)

United Arab Emirates

Abu Dhabi(Embassy) (Link)

Dubai(Consulate-General) (Link)

Uzbekistan

Tashkent (Link)

Vietnam

Hanoi (Link)
Oceania

Name of the Country

Name of the City

Embassy / Consulate Website

New Zealand

Wellington (Link)

Australia

Canberra (Link)