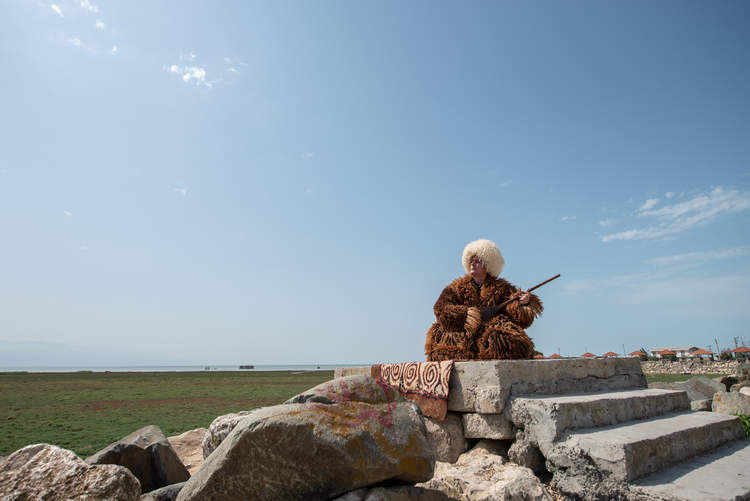 Land trips to Iran are among the most interested ones not only due to variety of attractions found en route but also because of cheap petrol fee for Iran passengers. No matter you enter by your own vehicle, motorcycle, bicycle or on your own foot; this package is practically available for all.
This package is mostly recommended to travelers coming from Europe or Turkey to Iran.
NOTE : The bicycle riders should know that some parts of the distances between two destinations should be driven by car due to long distances; also there is no especial bicycle riding path.
Bazargan / Norduz Border to Jolfa
Arrival through Bazargan (Turkey) or Norduz (Armenia) Border. Do the customs and enter the land of Iran. Welcome by our agent and drive toward the city of Jolfa, the first city to visit.
Jolfa to Tabriz by road (270 km)
You drive 147 km to west to catch UNESCO world heritage remained from Christians in Sarcheshmeh called Black Church or Qare Kelisa, you continue to the city of Tabriz (270 km) after finishing the visit to church. Dinner at El Goli Complex in Tabriz.
Tabriz excursion
Tabriz, capital of Azerbaijan province of Iran, is inhabited by an ethnic community called Azaris. In Tabriz, you visit Blue Mosque, Tabriz Museum and the extensive bazaar built in the 15th Century, which is one of the oldest ones in Middle East, today's Iran UNESCO world heritage.
Tabriz to Sareyn (Sarein) by road (255 km)
Continue to the lovely Rock village of Kandovan 40 km south of Tabriz; say goodbye to East Azerbaijan Province and head to the Ardebil Province; first: the city of Sareyn (255 km / 3:40 h). This city is known for mineral hot and cold springs. In the evening, you enjoy bath in spa of Sareyn.
Sareyn to Astara by road (302 km)
After relaxing night in the city of Hot Springs, it is time to travel to the neighbor city of Ardebil, 30 minutes far from Sareyn (Sarein), and visit the UNESCO world heritage of Sheikh Safi al- Din Khanegah and Shrine Ensemble as the main attraction of Ardebil. Continue toward Astara through Heyran Ghaut (Gardan-e-heyran) (302 km/ 5:20 h). Astara is ideal to watch sun disappears behind the Sea.
Astara to Bandar-e Anzali by road (145 km)
Early morning embark to Caspian Sea and Bandar-e Anzali (145 km/ 2:40 h); the previous home of first and biggest port of Caspian Sea. You will enjoy the Anzali Lagoon with the world fame of "nelubium Capsicum" as well as practice some bird watching in the host of neighbor countries' birds. Anzali Lagoon has sister relationship with Kushiro Lagoon in the Kushiro National Park in Kushiro-Shitsugen of Japan.
Accommodation: Bandar-e Anzali
Bandar-e Anzali to Sari by road (390 km)
Iran trip continues through the Caspian Sea line, Sari is the capital of Mazandaran Province and is located between the northern slopes of Alborz Mountain. What you do and see Sa'at Sq. and Manouchehr Khan Kabbali House as the national registered heritage built in Qajar dynasty (390 km / 6:40 h). You stop in Sari to break up this road trip to Golestan Province.
Sari to Gorgan by road (133 km)
Continue to Golestan Province and the city of Gorgan as the capital (133 km / 1:55 h). Visit Gorgan City by the old part of the city including Amir Latifi House, Na'al bandan Bazaar, Jame Mosque, Fruit and Vegetable bazaar with unique structure, Museum Palace, Naharkhoran Jungle, Alang Dareh Jungle, and Ziyarat Village.
Gorgan to Bojnord (Bojnourd) by road (314 km)
After having breakfast, set out on one of the most important Eastern provinces, North Khorasan Province. You reach Bojnourd (314 km / 4:20 h) city through Gonbad-e-Kavoos brick Tower which is the Highest brick tower in the world; you will spend exploring the awe inspiring Golestan National Park on the way.
Bojnurd
There are plenty of activities to try today; visiting Esfarayen, Garmeh and Belgaum (Belghais) cities in one full day.
Bojnord to Mashhad by road (270 km)
Head Directly to Mashhad city, the main religious city of Iran and capital of Razavi Khorasan Province (270 km/3:20 h). In Mashhad, visit the tomb of great poet Ferdowsi in Tous, Holy Shrine of Imam Reza, Goharshad Mosque, Shrine Museum, Tomb of Nader Shah and then dinner at Shandiz District.
Mashhad to border
Enjoy final breakfast, say goodbye to Iran and leave toward the last point: Iran – Turkmenistan Border (Bajgiran – Sarakhs – Gaudan) (around 3 -4 hours) and depart Iran through the customs.
Package Introduction
Start: Turkey / Armenia - Iran Border
Finish: Iran -Turkmenistan Border
Duration: 12 days
Style: private
Physical rating: *